SAN ANGELO, TX — The debate over Covid-19 case counts, deaths, and mandatory vaccines prompted us to ask what is the reinfection rate for Covid-19 in Tom Green County? If one has previously contracted Covid-19 and then recovered, what are the chances of contracting the disease again? This leads to the ultimate question, does natural immunity matter?
The City/County Health Department had not been tracking the numbers, while it was religiously recording other snapshots of data, including whether a Covid case was detected using a PCR or antigen test, or if a Covid-19 fatality was a vaccinated patient or not? Tom Green County Health Authority Dr. James Vretis estimated at the start of the Delta variant surge that 65 percent of the county needed to get the vaccine to have a shot at herd immunity, a concept that has since fallen out of favor in national news reports as more and more vaccinated people are contracting Covid-19 anyway.
According to the City/County Health Department, in Tom Green County, since July 1, 60 unvaccinated people have died of Covid-19; 21 vaccinated or partially vaccinated people have died of the virus. Of those contracting Covid-19, 68.5 percent of them are unvaccinated, the rest partially vaccinated or under 12 years old and not eligible for the vaccine. In the hospital today, 83 percent of the Covid-19 patients are unvaccinated.
These numbers continue to come out of the health department, but they ignore the elephant in the room. How many Covid-19 patients, whether hospitalized or not, are reinfections? Since March 2020, 18,877 citizens in Tom Green County have contracted Covid-19 and recovered.
If you are among those who have had Covid, what are the chances of catching Covid a second time?
The answer is not much of a chance, according to data gained through a public information request to the health department.
According to the Tom Green County/City of San Angelo Health Department, "There were 83 reinfections in the 18,877 cases from Tom Green County from March 2020 through September 12, 2021." This data is culled from only residents of Tom Green County.
That 83 is a pretty small number.
To put into perspective, 83 of 18,877 Covid-19 infections is 0.439 percent. Of the approximate 117,000 residents of the county, that 83 is 0.07 percent.
The CDC does not agree with the logical conclusions our county numbers present so the government health agency commissioned a study on natural immunity to dispel claims made by Senator Rand (R-KY) that natural immunity is as good as if not better than vaccinated immunity.
"Kentucky residents who were not vaccinated had 2.34 times the odds of reinfection compared with those who were fully vaccinated," the CDC study argued. Gannett ran a headline following the release of the study, claiming, "CDC study of Kentuckians disputes Rand Paul, Thomas Massie claims about COVID-19 immunity." Thomas Massie is a Kentucky congressman who shares Paul's views.
Paul, who is a medical doctor who practiced medicine for 33 years, is relying upon a study from Israel titled, "Protection of previous SARS-CoV-2 infection is similar to that of BNT162b2 vaccine protection: A three-month nationwide experience from Israel." Paul argued that the Israeli study is more complete — and studies the reinfection of many more subjects than the CDC study mentioned above — and concludes, "Our results question the need to vaccinate previously-infected individuals."
Paul's position is health policy should not be made upon the unknown, and the benefits of vaccinating a patient who has previously recovered from Covid-19 are too unknown for the CDC to be advocating vaccinating the fully recovered. Paul, who recovered from Covid-19 he contracted in 2020, said he is not taking the vaccine.
Watch Senator Rand Paul's controversial Twitter speech, "We are at a moment of truth and a crossroads."
Ignoring natural immunity has direct policy repercussions. For example, if proof of vaccination will be required to board an airliner, why is not natural immunity also considered fully protected?
Experts tell us the jury is still out on natural immunity, how long it lasts, or if vaccination increases immunity for the fully recovered. Dr. Vretis recommends those who are fully recovered to get the vaccine for added protection.
In Tom Green County, if only 83 of 18,877 of those recovered from Covid-19 have contracted the disease an additional time, getting a vaccine after recovery does not appear to grant much additional benefit.
Meanwhile, as of September 20, the Covid-19 case counts in Tom Green County appear to be falling rapidly. Data is pointing towards a respite from the virus until the next variant appears.
If you've had Covid-19 and recovered, welcome to the herd!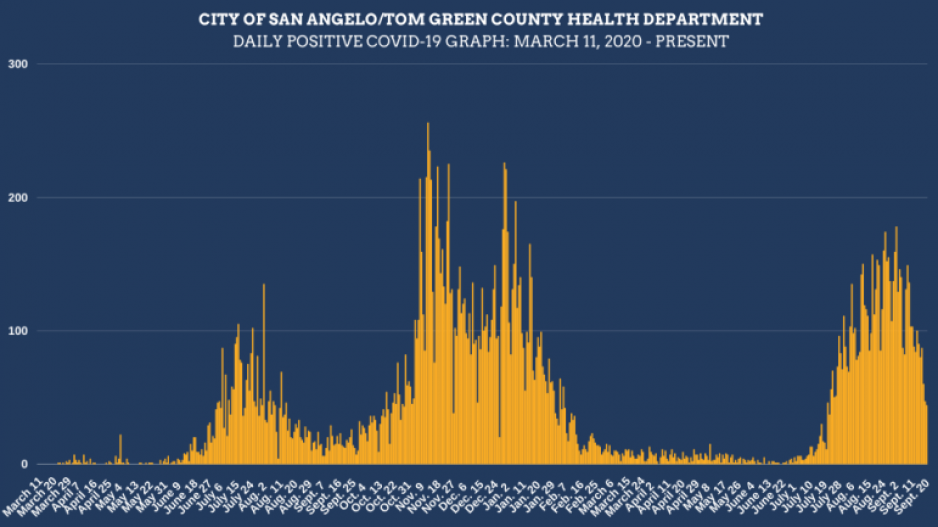 Most Recent Videos