Dates

Jun 05, 1950 Jul 29, 2015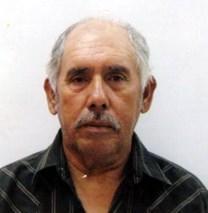 Adolfo Elguezabal Ortiz, 65 of Eldorado, went to his final resting place on Wednesday, July 29, 2015. He was born on June 5, 1950 in Muzquiz Coahuila Mexico to Juan and Dora Elguezabal. Memorial service is at 3:00 p.m. on Saturday, August 1, 2015 in Johnson's Funeral Home Chapel.
Adolfo will be remembered as giving and selfless. He was also very independent, self-sufficient, and hard working. He will be missed by everyone that knew him.
He was preceded in death by his father and his aunt, Elicia Elguezabal. Survivors include his mother Dora Ortiz; brothers: Jesus Elguezabal and wife Carlota, Juan Antonio Elguezabal and wife Rosalinda, and Benito Frausto; cousins: Cesar Elquezabal and wife Cindy, Miriam Favela, and Adolfo Elguezabal and wife Debbie; and many numerous nieces and nephews.
Write Your Tribute