Dates

May 07, 1923 Jul 31, 2015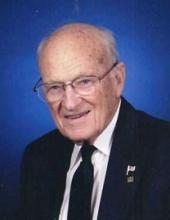 Wallace Craig Gibbs, 92 of San Angelo, Texas passed away peacefully Friday, July 31,2015 at his home in Corpus Christi surrounded by his loving family. The family will receive Friends for visitation Tuesday, August 4, 2015 from 6 – 8 PM at Johnson's Funeral Home. A Funeral Service will be held on Wednesday August 5 at 10 AM in Johnson's Funeral Home Chapel with the Reverend Taylor Sandlin officiating, Burial will follow in Lawnhaven Memorial Gardens. The Pallbearers for the service will be his grandsons and great grandsons.
Wallace was born in San Angelo May 7, 1923. He was married to Dorothy Gibbs on July 26, 1942 in San Angelo. They were married 54 years before her passing in 1996. He served in World War II from 1942-1946 in the 5th Air Force Squadron. Wallace spent the first three years of service in Ireland servicing airplanes that went to England. To help keep their minds off the war the American Red Cross started up a baseball team to compete with the neighboring Air Force teams in Ireland. Wallace played pitcher and often told how his team played 40 games that season of which they only lost three. They won their championship game in London, England. In his last year of service, his job was to defuse bombs that had not been used during the war. When he returned he was self-employed for 32 years in the produce business. After retiring from his business he moved to Big Lake where he was the manager for Town and Country Village Market for 13 years. Retiring from Town and Country Market, Wallace returned to San Angelo to enjoy fishing.
Wallace was a skilled wood worker. He created beautiful pieces of art from natural wood on his lathe. He especially loved to design and create pens. He often said he loved making thing that were useful, things he could share, and he did! Many friends and family members will cherish these beautiful gifts as they cherished him.
On May 6, 2006 Wallace married Betty Latham Gibbs and together they created a home at Baptist Memorial Retirement Center where they lived for 9 years. As he began to lose his battle with Alzheimer's, he moved to Corpus Christi to live with his daughter and granddaughter.
Wallace was a loving husband, cherished father, brother, uncle and best friend to many over a lifetime of sharing , good times , stories and adventures.
Wallace is preceded in death by his first wife Dorothy Gibbs, his son Lonny Gibbs, a granddaughter Kristin Gibbs, two brothers Harold Gibbs and Billy Gibbs, his mother Delia Swope Gibbs and father Wallace Gibbs, Sr.
He is survived by his wife Betty Gibbs, of San Angelo; one daughter Linda Hodges of Corpus Christi; one granddaughter Traci McBain of Corpus Christi , four grandsons Dane Gibbs of Buda, Scott Hodges of Pflugerville, Greg Armstrong, of El Paso and Craig Armstrong, of Midland; one sister Gerldine Boatright of Odessa , eight great grandchildren , one stepson Allen Latham of San Angelo, two stepdaughters LuAnn Troudt of Devine and Elizabeth O'Briant of San Angelo , three step grandsons , one step granddaughter and many loved nieces and nephews.
We are especially grateful to the years of care from the doctors and nurses of Shannon Clinic and to Dr. Hines and Dr. Szalai and Angel Brite Hospice of Corpus Christi.
Memorial donations may be made to the Alzheimer's Association :alz.org , 800-272-3900 or Alzheimer's Association , PO Box 96011, Washington , DC 20090-6011.
Write Your Tribute