Dates

Jul 05, 1913 Aug 02, 2015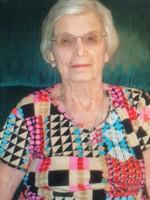 Coleta Alice Fenley was born on July 5, 1913 in Coleman County, Texas. She was the youngest of 4 children and her parents were W.D. and Emma May Mullis. She married John H. Fenley on December 31, 1937 in Seguin, Texas. Her husband was a WWII veteran and they traveled to several post war countries. As a young woman she served as post mistress in Brookesmith, Texas. She was also a hairdresser for many years. 
Coleta passed away in the Robert Lee Care Center on August 2, 2015. She is survived by nieces Tommye Wright and Lucretia Cargile, and nephews Charles Mullis and Jimmy Mullis. She was also loved and will be missed by many great nieces and nephews, great-great nieces and nephews and even great-great-great nieces and one nephew. She is also survived by cousins Jack and Marie. 
She was loved by all who knew her and admired for her strong spirit and independence. She was a positive influence in the lives of family and friends. Recently the family joined her in celebrating her 102nd birthday, a local band which included her great nephew, played for her party at the Care Center. 
The family would like to express a special thanks to the Robert Lee Care Center for the attention and consideration she received over the last few months. 
In lieu of flowers the family requests donations to Coke County Food Pantry, Vision with a Purpose or any local charity. 
Visitation will be held all day Tuesday, August 4, 2015 at the funeral home with family present 6:00-8:00 p.m. Graveside services will be held at 11:00 a.m., Wednesday, August 5, 2015 at Trickham Cemetery.
Write Your Tribute