Dates

Mar 15, 1936 Jan 12, 2021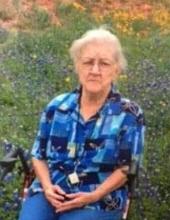 Betty Lou Corder passed away peacefully Tuesday, January 12,2021 in her home surrounded by family. She was 84. Her Earthly suffering is over. She was born March 15, 1936 in San Angelo, Texas to Norma Mae and Leslie Bradbury. She eloped and married her one and only true love Darwin (Dodie) Corder on February 04, 1952 who preceded her in death July 12, 1997. Born to that marriage was four daughters. Kathy, Debbie, Darla, and Kelly. 
Betty loved to dance, go camping and fish. She collected lamps, dolls, and cake plates and loved clothes. She also shared her love to her grandkids showing them to make biscuits and Chicken and Dumplings. 
Betty is survived by her daughters Debbie and husband Carl Wamsley, Darla, and Husband Harvey Cox. Preceded in death was her daughters Kathy Chappell and Kelly Corder. Legacy left behind includes (6) Grandkids Tommy Chappell, Brent Turney, Shane Cox, Darwin (tooters) Cox, Dawnelle Beavers and Denena Bailey. (11) Great grandkids & 6 great-great grandkids. Also survived by 2 sisters-in-law and many nieces and nephews. 
Family would like to thank a very loving family friend Sandy Camp to who was with Betty night and day to help take care of her. Words cannot say how much appreciation we have for her. Special thanks to Heather Turney for helping family get thru this rough transition. 
Mom taught us girls lots of things such as how to dance, swim, fish, hunt, wear makeup, cook, sew, dress, manners, morals, and love, however she never taught us how to live without her, but God will give us strength to do so. 
Visitation will be Thursday, January 14, 2021, from 2:00-4:00pm at Harper Funeral Home, San Angelo, Texas. Funeral will be graveside services at Lawnhaven Memorial Gardens on Friday, January 15, 2021 at 3pm. Special thanks to Pallbearers Billy Postell, Shane Cox, Darwin Cox, Gilbert Cox, Thomas Chappell, and JD Chappell for carrying her to her final resting place.
Visitation
Thursday, January 14, 2021
2:00PM - 4:00PM
Harper Funeral Home
2606 Southland Boulevard 
San Angelo, TX 76904
Graveside
Friday, January 15, 2021
3:00PM
Lawnhaven Memorial Gardens
4989 FM Highway 1223 
San Angelo, TX 76905
Write Your Tribute