Dates

Oct 15, 1955 Feb 18, 2021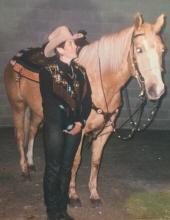 Laura Marie Ducote Menchaca, of San Angelo, passed away on February 18, 2021 at the age 65. She was born on October 15, 1955, in San Angelo, Tx to Curry and Mildred Ducote and graduated from San Angelo Central High School in 1973. Sisters include Marcia Baker and Mary Belle Schmidzinsky (deceased) and brothers Charles and Clinton Ducote. Nephews and nieces include Bryan Baker and Kara Ellis, Jon Curry Ducote and Candice Major, and T. Gabe Ducote Lofton. A great neice Emily Major and nephews: Holden Major and Sutton Major, and Latham Ducote. 

Laura was married to Eddie Menchaca and they spent many loving years in Henderson, North Carolina, and lastly in Seneca, South Carolina. Eddie preceded Laura in death. 

During her time in San Angelo, Laura was an active member of AQHA­ American Quarter Horse Association, and spent many years raising and boarding horses. When a new foal was expected at the farm, various members of the family were notified of the coming birth, at any hour of the day or night, so that they may witness the glorious occasion. 

Laura was a long-time member of the San Angelo Stock Show and Rodeo Association and served in several capacities over the years. 

A visitation for Laura will held from 1:00 to 3:00 pm on Wednesday February 24th at Harper Funeral Home, with internment to be at Calvary Cemetery. 

In lieu of flowers please donate to Meals for the Elderly in Laura's name.
Visitation
Wednesday, February 24, 2021
1:00PM - 3:00PM
Harper Funeral Home
2606 Southland Boulevard 
San Angelo, TX 76904
Final Resting Place
Calvary Catholic Cemetery 
1100 W. Avenue N 
San Angelo, TX 76903
Write Your Tribute