Dates

May 04, 1927 Apr 02, 2021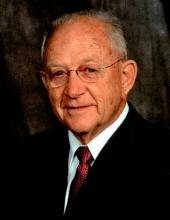 John Lee Barnett, lovingly called Grandad by his grandkids, passed away at the age of 93 on Good Friday, the 2nd of April, with his daughter, Beverly, son-in-law, John, and granddaughter, Michelle, beside him. 
John was born on May 4, 1927 in Abilene, Texas to Martha Belle Sumrall and John Barnett. He was the eldest of six children. 
He graduated from Hamlin High School in 1944. At the age of 17, he joined the Merchant Marines during World War II, serving on oil tankers that traversed the Pacific Theater between the United States and Japan. 
Following his service in the Merchant Marines, John played football at West Texas State College. Subsequently, John joined the United States Army Air Corp in 1946. During the Korean War, he was stationed in Suwon, South Korea where he served as Recreational Manager, managing the rec center on base. John continued his military career at Goodfellow Airforce Base as Recreational Manager until he retired from the service in 1966 at the rank of Master Sergeant in the 6940 Support Group. 
John started his local business, House of Chemicals, after retiring from the service. His business has served the community of San Angelo and the surrounding areas since 1965. He was well known for serving the community and having close relationships with his customers. Though his son, David, took over the company, John was still present at the store and continued to interact with his beloved customers. 
He was briefly married to Mildred Watchorn in 1948. They had two children, Cynthia Lee and John Randy Barnett. John then met the love of his life, Barbara Allen, on a blind date and married her in 1956 in Houston, Texas, where he was stationed at the time. John and Barbara had two children of their own, Beverly Kaye and John David. 
John loved being outside and spent most of his free time either gardening, golfing or building things in his shed. He was an avid collector of rocks and arrowheads, fueled by his passion in Geology and Natural History. 
John is survived by: his brother, George Barnett; his children: Beverly and husband John O'Rear, David and wife Linda Barnett; his grandchildren: JonRandy Hylton, Mylee Card, Kaeleen Kirkpatrick, Mary Katherine, John Mark and Jane Ellen O'Rear, Josh and Michelle Barnett; and his six great-grandchildren. 
He is predeceased by: his parents; his siblings: Joyce, Mozelle, Kenneth and Carolyn; his children: Cynthia Lee and John Randy; and his wife, Barbara. 
The graveside service will be held at 1 p.m. on Friday, April 9, 2021 at Lawnhaven Memorial Gardens in San Angelo, Texas. Funeral arrangements are being made by Harper Funeral Home.
Graveside
Friday, April 09, 2021
1:00PM
Lawnhaven Memorial Gardens
4989 FM Highway 1223 
San Angelo, TX 76905
Write Your Tribute