Dates

May 25, 1958 Apr 03, 2021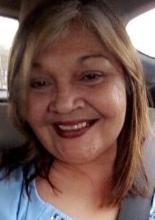 Martina Rivera Ojeda, age 62 of San Angelo, died April 3, 2021 at her home surrounded by family.

Public viewing will be held on Wednesday, April 7, 2021 from 9:00 AM until 8:00 PM at Robert Massie Funeral Home. The family will gather from 5:00 PM until 7:00 PM on Wednesday to receive friends. The funeral will be held on Thursday, April 8, 2021 at 11:00 AM at Robert Massie Riverside Chapel. The family respectfully request that everyone in attendance of the visitation and funeral service please wear a facial mask. 

Martina was born on May 25, 1958 in San Angelo. She was a multifaceted individual that loved to design and was a talented floral and decorator. She was loyal to her family and loved them dearly and she was a devoted caretaker to her mother. Martina did have a stubborn side to her, but that was only when she needed to get a point across. She was cheerful and loved to listen and dance to her music...."oh baby baby."

Martina is survived by her three children, Janiece Mendez, Tanya Ojeda and Albert Hernandez, and Jeremy and Naomie Lopez all of San Angelo; her life partner, Ruben Lopez; three sisters, Adela Ramon, Junice and Marcos Alvarado of Kansas, and Delores and Javier Ybarra of Kansas; three brothers, Juan Perez of San Angelo, Joe Ramon of Kansas and Kevin Rivera of Oklahoma; her grandchildren, Izanae, La Toria, Ector Jr.,Esmeralda, Alex, Tatiana, Anissa, Jeremy Jr., Xavier, and Isabelle; and by five great grandchildren. 

The family would like to express there appreciation to the staff and doctors of Kindred Hospice for their care and devotion to our loved one.
To send flowers to the family or plant a tree in memory of Martina R Ojeda, please visit our floral store.
FUNERAL SERVICE
Thursday
April 8, 2021
11:00 AM
Robert Massie Riverside Chapel
402 Rio Concho Dr.
San Angelo, TX 76903
Write Your Tribute