Dates

Sep 01, 1947 Apr 04, 2021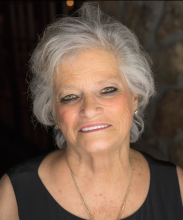 Bobbie Lee Kincannon, 73, went to be with her Lord on Easter Sunday, April 4, 2021, at her home surrounded by her loved ones.

Memorial services will be at 11:00 AM Thursday, April 8, 2021, at San Angelo Cowboy Church with Pastor Jay Johnson, officiating. Women, please wear a red hat in honor of Bobbie. Cremation and arrangements are under the direction of Robert Massie Funeral Home.

Mrs. Kincannon was born September 1, 1947 in San Angelo to Lowell Eugene "Tex" Dougherty and Bernice "Bunny" Hudgins. She was a lifelong resident of San Angelo, graduating from Central High School in 1965. Bobbie married David Kincannon on July 19, 1997 in San Angelo, he preceded in death on August 9, 2016 after 20 years of marriage. Bobbie loved serving her customers at Blanek's many restaurants throughout the years. She was a beloved member of the San Angelo Cowboy Church. Bobbie loved to play Bingo with her sister, Rhonda, and spend time her dear friends, Kathy Burcham and her late husband Raymond. Bobbie will be remembered for her fun-loving spirit. 

Survivors include her three daughters, Brenda Watkins and husband Manny, Tammie Kenner and husband David, and Tracey Goff and husband Wesley; 10 grandchildren, 15 great grandchildren, two brothers, Butch Dougherty, and Tommy Dougherty; and two sisters, Rhonda York, and Jannye Byler. Bobbie was preceded by her parents, and her twin sister Robbie Bible.

Memorials may be made to San Angelo Cowboy Church, 4015 N. Chadbourne Street, San Angelo, Texas 46903.
To send flowers to the family or plant a tree in memory of Bobbie Lee (Dougherty) Kincannon, please visit our floral store.
MEMORIAL SERVICE
Thursday
April 8, 2021
11:00 AM
San Angelo Cowboy Church
4015 N Chadbourne Street
San Angelo, TX 76905
Write Your Tribute