Dates

Apr 30, 1929 Apr 05, 2021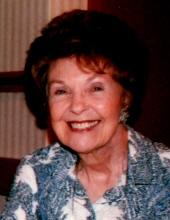 Anna Louise Rowan Vinson peacefully passed away Monday, April 5, 2021, at age 91. She was born in San Angelo to Leo and Eleanor Rowan on April 30, 1929. 
At San Angelo College Louise was the band sweetheart where she meet MC "Morty" Vinson who was just back from a tour in the Marines in Pacific Theater and Okinawa during WW2. Morty was Captain of the football team and took Louise to the Valentine's Dance and they were both voted class favorites. 
Morty transferred to Tulsa to play football and Louise transferred to Baylor to study Education. They were married on October 3, 1948 at the First Baptist Church of San Angelo where Louise and her parents were long time members. They attended The University of Texas together with Louise graduating with a degree in teaching and Morty with a BS in geology. 
They moved to Oklahoma City with Morty working for the Magnolia Oil Company and Louise taught first and second grade where their first son Bryan was born. Morty was transferred to Midland in 1955 and worked as the District and Division geologist. In 1959 they adopted their second son Wayne and then had twins, David and Wade in 1962. 
Louise was saved by the Lord and became a devout Christian attending Bill and Annett Mayne's Fellowship Church and Dick Spencer's church in Midland. In 1995 Morty and Louise moved to the Concho Creek Ranch at Paint Rock where she attended the Methodist Church of Paint Rock. Louise lived at the ranch until Morty's death in 2001. Since then Louise has lived at Rio Concho West, Lindale and Regency House in San Angelo and attended the Victory Christian Church with Jerry Roach as pastor. 
Louise is preceded in death by her parents Leo and Elinor Rowan, her brother Robert Rowan and husband MC "Morty" Vinson, her son Wayne L. Vinson and grandson Jeffery B. Vinson. 
Louise is survived by her sons Bryan L. Vinson, David W. Vinson (Terri) and Wade C. Vinson (Alison) and daughter-in-law Angela Nobles. Grandsons and granddaughters, Neal Vinson, Ryan Vinson, Candice Vinson, Jana Vinson, Hayden Vinson, Kate Vinson, Abby Halfmann, Cade Vinson, Cash Vinson, Aly Whitworth, Will Vinson, Brady Vinson and Bethany Vinson. Great grandson Duke Whitworth, Bowen Halfmann, Conley Halfmann, and Valor Halfmann 
There will be a viewing from 6-8 PM Thursday at the Harper Funeral Home at 2606 Southland Boulevard in San Angelo. Funeral Service will be at the Victory Christian Center at 1620 Sunset Drive in San Angelo at 1 PM Friday April 9, 2021. An open casket viewing will be one hour prior to service. Afterward, there will be a procession to the Sherwood Cemetery for the graveside service. Memorials may be made to Victory Christian Church, 1620 Sunset Drive, San Angelo 76904.
Visitation
Thursday, April 08, 2021
6:00PM - 8:00PM
Harper Funeral Home
2606 Southland Boulevard 
San Angelo, TX 76904
Get Directions
Funeral Service
Friday, April 09, 2021
1:00PM
Victory Christian Center
1620 Sunset Dr. 
San Angelo, TX 76904
Final Resting Place
Sherwood Cemetery 
County Road 211 
Sherwood, TX 76941
Write Your Tribute