Dates

Mar 05, 1928 Apr 05, 2021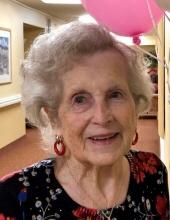 Our beloved mother, sister, grandmother, and friend, Joyce Elder, joined our dad and her Heavenly Father on Monday, April 5, 2021. 

Joyce Hundley was born March 5, 1928, in St. Jo, Texas, as the first child of four to Harry and Leafy (Weatherford) Hundley, Sr. She graduated from high school in St. Jo, in 1945, where she was voted "Most Beautiful," and indeed she was, inside and out. 

After her family moved to Clifton, Texas, a young man named Lee Murzel Elder fell in love with her the first day they met and immediately asked her out on a date for the next day, which was her birthday. He surprised his "five foot two, eyes of blue" beauty with a bracelet. On August 31, 1946, they married in Clifton, Texas, in a double wedding ceremony with his sister, Oleta, and her fiancé, Herb Lubke, and were married for 69 years until Lee's passing in 2016. 

Joyce and Lee settled in Denison, Texas, to raise their four children, Kenneth, Deborah, Donna, and Timothy. In 1963, the family moved to San Angelo, Texas, when Lee accepted the position of Business Manager for the San Angelo Independent School District. 

Being a child of the Depression era, Joyce's ability to raise and care for her family on a tight budget was exemplary. Joyce was a loving wife, mother, and friend to many people. She was also a great listener, very compassionate and kind-hearted, and gave unconditional love to all her family. She was an excellent homemaker and cook, caring for her four children, attending her children's and church functions, sewing clothes for her family and their events, including intricate dresses for dances and even wedding dresses for her daughter and granddaughter. 

Joyce will be remembered as a gentle spirit with a beautiful smile and blue eyes, and as a firm believer in education for her children and grandchildren. She was an avid reader and kept abreast of current events and health issues better than most. She will always be remembered by family and friends as a shining example of God's way to live and love. Joyce's Christian faith was infinitely important to her. She was a faithful long-time member of First Baptist Church of San Angelo. 

Beloved family who passed on before Joyce include her much loved husband, Lee, oldest son, Kenneth in 2018, parents Harry and Leafy Hundley, Sr., parents-in-law Prentice and Velma Elder, brother Harry Hundley, Jr., and wife Jan, brother-in-law and wife Amos and Alta Lee Elder, brother-in-law Herman Barrs, brother-in-law Roy Briggs, sister-in-law Oleta and husband Herb Lubke, sister-in law Mary Davis, and son-in-law Gordon Stout. 

Surviving Joyce are her sisters Jean Briggs and Margaret O'Rear (Jerry), sisters-in-laws Dorothy Davis and Betty Barrs, and brother-in-law Duane Davis, along with many nephews and nieces. 

Survivors include her children: daughters Deborah Stout and Donna Aylor (Don), and son Tim Elder (Debra), all of San Angelo. Grandchildren: Deon Aylor, Carrie Stout (Scott Edwards), Dara Aylor Hurt (Robert), Lindsay Stout Kirking (BJ), Dustin Aylor (Monique), Deja Elder (Tony Leftwich), Carson Stout, Kate Latham, and 7 great-grandchildren: Weston and Tanner Fesperman, Laura and Josh Gartman, Sydney, Jenna, and Wyatt Kirking, and 2 great-great grandchildren: Taylen and Damian Fesperman. 

The family would like to thank all the staff at Brayden Park and Kindred Hospice for their loving care. 

Memorials may be given to Meals for the Elderly, 310 E. Houston Harte, San Angelo, TX 7903, and Friends of the Library, P. O. Box 60421, San Angelo, TX 76906. 

Graveside service will be held at 10:00am on Thursday, April 8, 2021 at Lawnhaven Memorial Gardens.
Write Your Tribute