Dates

Oct 17, 1943 Sep 17, 2021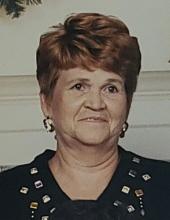 Evelyn Veralynn Guzman, 77, of San Angelo, gained her wings after suffering complications from a stroke at her home on Friday, September 17, 2021. 

She was born October 17, 1943, in Muleshoe, TX to Wilburn and Claudia Mae Ledbetter. Evelyn will be remembered in so many ways, from her smile to her generosity. She was always there to help her family and friends. If she could not help, she was always ready and willing to listen and give comfort however she could. She enjoyed many things in her life, but her children, grandchildren, and great-grandchildren meant the world to her, and she will be greatly missed. 

Evelyn was preceded in death by her partner, Cecil Green and her daughter, Belinda Light. She is survived by her children; Wayne Wetterman and wife Cynthia, Kenny Wetterman and fiancé Sharon Kluzinski, Elizabeth Contreras and husband Stacy, Annette Robinson, Matt Robinson and wife Micki; grandchildren; Ashley White and husband Manny, Karl, Nicole, Kelli, Katlin, and Chance Wetterman, Sean and wife Nichole, Brandy and Silberio Contreras, Phoenix and Tajon Robinson, Samantha Thigpen, Isaiah Davis, Madison Daniels, and Marah Brannan; great-grandchildren; McKenzie, Dominic, Adriana, Macey, Finley, Thomas, Emma, Junie, and Sophie. 

Please join us for her celebration of life at 10:00 AM, Saturday, September 25, 2021, at the First Church of the Nazarene (HEB Plaza), 3354 W. Beauregard, San Angelo, TX 76901. 

In lieu of flowers, please make donations to Critter Shack, PO Box 192, Wall, TX 76957.
Memorial Service
Saturday, September 25, 2021
10:00AM - 11:30AM
First Church of the Nazarene 
Write Your Tribute