Dates

Jul 18, 1952 Sep 25, 2021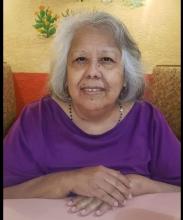 Juanita Pena Carrasco , age 69, went to be with the Lord on Saturday, September 25, 2021, in San Angelo. She was a loving wife, mother, grandmother, sister, and friend that everyone will truly miss.

She was born July 18, 1952 in San Angelo, Texas. She was one of 10 children. She worked many years as a hairdresser in her own beauty shop her father put for her. She also worked at Levi Strauss and Ethicon until she was not able to work anymore. She met the love of her life, Noe L. Carrasco Sr., at a carnival in 1977. They were married May 15, 1978. They just celebrated their 43rd anniversary this year. She mothered 3 daughters (Nicole, Amanda, and Stephanie) and raised two of her grandkids like her kids (Jordan and Brittany).

Juanita was a very humble and loving woman that loved and only wanted the best for her family. She always ministered the word of God to her family. Her main goal was to make sure her kids, grandkids, sisters, brothers, nieces, nephews, or anyone she met was right with God. And if not she would minister to them and lead them in the Lord's prayer to accepting Jesus in their heart.

She loved to do puzzles, word finds, go fishing, garage saling, second-hand store shopping, and go on long car rides. She was all about family time. Her love for her family was enormous. She was at every birthday or celebration that involved her family. She was a strong woman and had a great relationship with God. Her smile, her hugs, her kisses, and her words of encouragement will truly be missed. Juanita was the heart of the family.

Juanita was preceded in death by her parents, Pedro and Pauline Pena. She will truly be missed by Noe, her husband of 43 years, and her 3 daughters - Nicole and David Martinez, Amanda and Frank Castillo Jr., and Stephanie Carrasco. She is also survived by 3 brothers, Amado Morin Pena, Antonio Pena and wife, Amelia Pena, and Jesus Pena; six sisters, Maria Pena, Amalia Suarez, Estella Pena, Teresa Sanchez, Martha Ortiz and husband, Frank Ortiz, and Martha Elena De Leon; seven grandchildren, Brittany Ferrare and husband Patrick, Jordan Yruegas, David Martinez, III, Nia Walker, Michael Rios, III, Gabriel Rios, Elijah Castillo, Ashley Carrasco; and four great grandchildren, Matthew Ferrare, Isabelle Brayley, Jenevieve Rodriguez, and Juan Salzido.

A special thank you to the caregivers, Veronica Cardona, Michael LaShawn Walker, Jordan Yruegas.

Pallbearers will be Frank Castillo, Jr., LaShawn Michael Walker, Ismeal Garcia, Jr., Alex Jones, Jordan Yruegas, Jesus Francisco Cardona, and David Martinez; and honorary pallbearers will be, Timothy Pena, Michael Rios, III, Gabriel Rios, Elizah Castillo, and Matthew Ferrare.

The family decided on a one-day event, Homegoing service, Viewing will be Friday, October 8, 2021, from 9:00 AM at Bible Gate Way Ministry immediately followed by the Homegoing service at 10:00 AM at the church. Everyone will say their goodbyes at the church. The cemetery will be for immediate family only. Arrangements are under the direction of Robert Massie Funeral Home.
 
To send flowers to the family or plant a tree in memory of Juanita (Pena) Carrasco, please visit our floral store.
---
Services
PUBLIC VIEWING
Friday
October 8, 2021
9:00 AM to 10:00 AM
Bible Way Ministries
2103 Shelton
San Angelo, TX 76903
---
FUNERAL SERVICE
Friday
October 8, 2021
10:00 AM
Bible Way Ministries
2103 Shelton
San Angelo, TX 76903
Write Your Tribute