Dates

Nov 01, 2000 Oct 04, 2021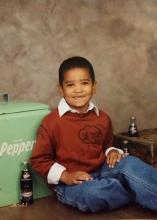 Kevin Frankie Frazier, 20, passed away Monday, October 4, 2021, in San Angelo.

Memorial services will be at a later date in Midland, Texas. Details to be announced as soon as arrangements are sorted out. Cremation and arrangements are under the direction of Robert Massie Funeral Home.

Kevin was born November 2, 2000 in Lynchburg, Virginia. He was a San Angelo Resident. Kevin followed in his Pappaw Larry's footsteps. He loved his family and friends. Kevin wanted to be with his Lord.

Survivors include his mother, Tracy Ann McCurry of Killeen who he left behind to continue fighting for Suicide Prevention and Mental Health Awareness. He leaves behind 2 sisters, Kirsten and Pauline, and their families. Aunts, uncles, many cousins, and his Grandma.

Kevin Frankie Frazier was preceded in death by his Pappaw Larry, Mammaw Jessie, Grandma Nita, his brothers and sisters, and his baby. He is in the arms of His Lord and Savior Jesus Christ! Finally Home where he wanted to be.

Tracy Ann McCurry's email address is [email protected] if anyone wants to send gifts or flowers.
To send flowers to the family or plant a tree in memory of Kevin Frankie Frazier, please visit our floral store.
---
SERVICES ARE TO BE ANNOUNCED

Robert Massie Funeral Home
402 Rio Concho Dr.
San Angelo, TX 76903
Write Your Tribute