Dates

Mar 06, 1959 Nov 15, 2021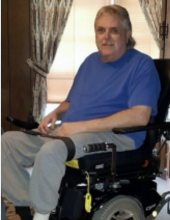 On November 15, 2021 God called Jerry Alan Jackson to heaven where he is now out of pain and walking with his brother Jim on legs that once more carry him. 

Jerry was born March 6, 1959 in Abilene, Texas to Delmer C. and Barbra Shelton Jackson, welcomed home by his brother James Berry (Jim) Jackson in Baird, Texas. The family moved to several towns in Texas and started school in Artesia, New Mexico. Jerry attended most his school in Hobbs, N.M. before moving to Eldorado, TX his freshman year. In Eldorado High School he joined FFA where he showed champion pigs and participated in the FFA band which won district contest in Midland and went to the state contest in Fort Worth in 1977. 

He attended ASU one semester while working in the family oil field service business where he was injured in a tragic accident in 1978 leaving him paralyzed, and in a wheel chair the remainder of his life. Jerry was not to be stopped from living life, he went on to live a life full of activity. After moving to San Angelo, he met another wheelchair friend Mike Hooker where they played wheelchair basketball, did scuba diving, and drag raced at Wall, Texas. The pair set up a recording studio in Jerry's home and he and Mike recorded music together. Mike on his electric piano and Jerry on guitar. In 2015 his parents sold their home in Eldorado and moved to his home in San Angelo, where they took care of each other. 
Joining him in heaven is his brother Jim, his grandparents J.W.(Jake) and Vera Mae Emmerson Shelton, Elsberry and Mary Pearl Sadler Jackson Summons, Aunts, Uncles and Cousins. 

He is survived by his parents Delmer and Barbara Jackson; nephew James Lucas (Luke) Jackson and wife Brittany and their son Jarrett; Niece Melissa Bergmann and husband Danny, and their children Andrew and Ruth. One Aunt Louis Jackson Booth of Clyde. A friend who was always there to help when he needed it, Chuck Jones of Eldorado, and good neighbors who were always there to help. The doctors and nurses who are too numerous to mention except a Professional Therapist Tracy Romataski, who saved his life with her good care over the years. His wound care Dr. David R. Nichols has gone above and beyond the past few years with his care for Jerry. Dr. Nichols saw him and sent him to Plano for closing of wounds that had kept him in bed for two years. Once again following surgery he was under the care of Tracy Romatoski for rehabilitation. 

A Funeral Service will be held at Harper Funeral Home on Friday November 19, 2021, at 2:00 PM. A graveside service will be held at Ross Cemetery in Baird, Texas Saturday, November 20 at 2:00 PM. 
Family and friends can sign the online register book at www.harper-funeralhome.com.
Funeral Service
Friday, November 19, 2021
2:00PM
Harper Funeral Home 
2606 Southland Boulevard 
San Angelo, TX 76904
Graveside
Saturday, November 20, 2021
2:00PM
Ross Cemetery 
1600 US-283 
Baird, Texas 79504
Final Resting Place
Ross Cemetery 
1600 US-283 
Baird, Texas 79504
Write Your Tribute