Dates

Nov 14, 1929 Jun 15, 2022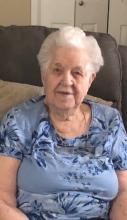 Dorothy "Dottie" Jean Louise Hixson, 92, of San Angelo passed away Wednesday June 15, 2022.

No services are scheduled at this time. Arrangements are under the direction of Robert Massie Funeral Home.

Mrs. Hixson was born November 14, 1929 in Jeddo, Pennsylvania to Harry and Katherine Gill. Mrs. Hixson and her husband settled in San Angelo in October of 1988 after traveling and living many places and called it home. He passed in August of 2010. Dottie was an involved and long term member of Trinity Lutheran Church for many years. She loved her lord and cherished her family and friends holding them all dear to her heart. She was an avid reader and also a hobby photographer for many years and enjoyed sharing her photos of everyday life and life events. She had a genuine heart and everyone in her life was touched and will forever be grateful for the time spent with her.

Dottie was preceded in death by her parents; her husband, William Raymond Hixson, Sr.; two sisters, Barbara Yoh and Marjorie Showers; and a brother, Bill Gill.

She is survived by her children William Hixson Jr and wife Peggy of Abilene, Larry Hixson and wife Denise of Canyon Lake, California; her four grandchildren, Tonia Johnson and husband Jeremy of Abilene, Tammy Sutterfield and husband Gary of Merkel, Brett Hixson of Canyon Lake, California, and Nolan Hixson of Canyon Lake, California; six great-grand Children; five great-great-grandchildren, and numerous beloved nieces and nephews.
Write Your Tribute