Dates

Jul 31, 1952 Jun 20, 2022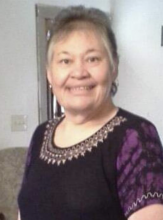 Maria Teresa Luna, 69, passed away Monday, June 20, 2022, in San Angelo.

Memorial service will be at 3:00 PM Friday, June 24, 2022, at Robert Massie Funeral Home with Rev. Todd Nelson, pastor of Christian Faith Center, officiating. Arrangements are under the direction of Robert Massie Funeral Home.

Mrs. Luna was born July 30, 1952 in El Paso to Luis and Alvina Levario. Maria has been a resident of San Angelo for 35 years moving from Ft. Stockton. Maria was a chef for the Salvation Army, First Baptist Church, Goodfellow AFB, Kozy Kitchen, and McGowan's at Rio Concho Manor, prior to moving to San Angelo she worked at Holiday Inn and Ramada Inn in Ft. Stockton retiring in 2018. Maria was a member of Christian Faith Center and attended The River Church San Angelo. She loved going shopping, singing, and making people laugh. Maria loved cooking for her family and friends. She was president of the Pink Ladies. She will be fondly remembered as "Mama Luna".

Survivors include her two daughters, Crystal Rios and Abigail Esquivel and husband Gabriel all of San Angelo; two sons, Richard Levario and wife of San Angelo, and Joel "Gasper" Levario of Brownwood; three grandchildren; Rachel Rios, Luis Levario, Sr., and Isaiah Esquivel; four great grandchildren, Luis, Jr., Aubree, Jeremiah, and Callum; two brothers, Margarito Levario of San Angelo, and Luis Levario, Jr. of Odessa; and three sisters, Manuela Vargas and husband Francisco of Odessa, Cita Moreno of San Angelo, and Clara Diaz of Ft. Stockton. Maria was preceded in death by her parents; and a brother, Ramon Levario.
MEMORIAL SERVICE
Friday
June 24, 2022
3:00 PM
Robert Massie Riverside Chapel
402 Rio Concho Dr.
San Angelo, TX 76903
Write Your Tribute