Dates

Apr 27, 1936 Nov 14, 2022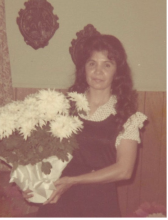 Adelaida L. Ramos, 86, passed away Monday, November 14, 2022, at her home.

Services will be at a later date under the direction of Robert Massie Funeral Home.

Mrs. Ramos was born April 27, 1936 in Hebbronville to Miguel and Sofia Leal. Adelaida has been a resident of San Angelo since 1960. She married Juan Ramos on October 20, 1962 in San Angelo. He preceded her in death on July 12, 2014. Adelaida was a member of the Jehovah Witness Church.

Survivors include three brothers, Filemon Leal, Paul Leal both of Midland, and Roy Leal of San Angelo; and two sisters, Maria Olga Sanchez and Oralia Leal both of Midland; many nieces, nephews and cousins. Adelaide was preceded in death by her parents; six brothers, and sisters.
Write Your Tribute