Dates

Dec 26, 1957 Nov 14, 2022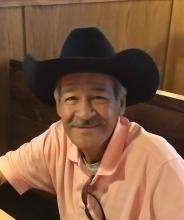 Renaldo Garcia Cajas, 64, passed away Monday, November 14, 2022, at his home.

Public viewing will from 1:00 PM until 8:00 PM Sunday, November 20, 2022, at Robert Massie Funeral Home. Funeral service will be at 1:00 PM Monday, November 21, 2022, at Nazareth Presbyterian Church of San Angelo with Pastor Beatrice Torres, officiating. Burial will follow at Fairmount Cemetery under the direction of Robert Massie Funeral Home.

Mr. Cajas was born December 26, 1957 in San Angelo to Jose and Eloisa Cajas. He was a lifelong resident of San Angelo. He graduated from Central High School in 1977 and shortly after joined the US Army. He served for nine and a half years and was stationed in Germany, Fort Hood in Killeen and Fort Bliss in El Paso. Mr. Cajas was a proud veteran. Upon returning home he worked as a custodian for San Angelo ISD for many years. Renaldo was a member of Nazareth Presbyterian Church of San Angelo. Renaldo loved to dance, coaching kids sports and fishing. He was especially proud of his family, he was always very supportive and would attend all events possible.

He is survived by his three sons, Ronnie Cajas, Jr. and wife Stephanie, Chris Cajas and wife Victoria, and Jesse Cajas all of San Angelo; one brother, Israel Cajas and wife Rachel of San Angelo; two sisters, Olga Colorado and husband Mickey of San Antonio and Dorothy Calvary and husband Jimmy of San Angelo; and 18 grandchildren. Renaldo was preceded in death by his parents, three brothers, Joe Cajas, Johnnie Cajas and Dickie Cajas; three sisters, Josephina Hernandez, Ophelia Shaeff, Francis Crites; and a great grandson, Jaden Moreno.
PUBLIC VIEWING
Sunday
November 20, 2022
1:00 PM to 8:00 PM 
Robert Massie Riverside Chapel 
402 Rio Concho Dr.
San Angelo, TX 76903
FUNERAL SERVICE
Monday
November 21, 2022
1:00 PM 
Nazareth Presbyterian Church 
313 W Ave N
San Angelo, TX 76903
Write Your Tribute