Dates

Oct 14, 1940 Jan 19, 2023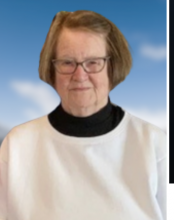 Ellen Marie Jeschke passed from this life with her family at her side on January 19, 2023. She was the first-born child of Wilburn and Evelyn (Schroeder) Jeschke on October 14, 1940.
Ellen always had a very independent streak. After graduating from Miles High School in 1959, she went to Texas Woman's University in Denton and earned a degree in special education. She began her teaching career in Lubbock and continued in Littleton, Colorado. Later she moved to El Paso where she held a position with the teachers' association serving as a liaison between the teachers and the school administration. She was an advocate for the teacher or other school employees, but only when they deserved it. If they deserved termination, she informed them of such.
Her next move was to Austin where she began employment in the office of the Texas Land Commission. She enjoyed researching history of the land. She also began teaching English as a Second Language (ESL) at Austin Community College. This was one of her most rewarding endeavors because her students were either studying to become US citizens or wanted to find better work opportunities. She later went to work for Entergy first as a temporary worker and then full-time employee.
When it came time to retire, she moved to San Angelo. She enjoyed her many friends at the Rio Concho Patio Homes and at the Terrace. She loved playing dominoes and attending the symphony.
Ellen was preceded in death by her parents and her brother Mike (Wilburn Jr.) and her niece Beth Erin. She is survived by her sister Binnie (Kenneth) Dierschke, her brothers Roger (Deni) Jeschke and John Jeschke and sister-in-law Angela Jeschke. Also surviving are her nephews and nieces, Kenny (Kim) Dierschke and their children Ryne and Kolt; Patrick (Michele) Dierschke and their children Jake, Mackenzie and Skylar; Kara (Gary) Byers and their children Evelyn and Brennan; David (Christine) Jeschke and their children Keegan and Reese, and Katherine Jeschke.
Visitation will be from 5-7 p.m. Thursday, January 26, 2023, at Harper Funeral Home. Service will be10a.m. Friday, January 27, 2023, at Trinity Lutheran Church in Miles. Burial will be in Miles Cemetery.
In lieu of flowers please consider a donation to Trinity Lutheran Church, P.O Box 265, Miles, TX 76861, or to Hospice of San Angelo (HOSA).
Write Your Tribute