Dates

Jul 04, 1938 Mar 06, 2023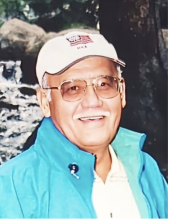 Eliberto "Al" Lopez, Sr., 84, passed away Monday, March 6, 2023, in San Angelo.

Services will be at a later date. Services and arrangements are under the direction of Robert Massie Funeral Home.

Mr. Lopez was born July 4, 1938 in Harlingen. Al was raised in San Angelo where he was a 1958 graduate of San Angelo High School. After high school he entered the United States Marine Corp, completed his basic training in San Diego and served in the Reserves for a total of six years. Al attended San Angelo Junior College, Texas A&M and earned his undergraduate degree in Industrial Management from Washington University in St. Louis. Al earned a Master of Business Administration at Angelo State University. He married Elva Samarripa on June 3 in 1961. He worked for GTE as a Supervising Engineer for 24 years. Al then worked for X-Tel for 6 years and retired in 2003.

Al enjoyed playing golf, reading, organic gardening, and watching western movies. He loved eating chocolate and ice cream. He was a member of Wedgwood Baptist Church in Ft. Worth where he was involved in prison ministry. He was previously a member of Primera Church and The Heights Baptist Church, both in San Angelo. He was also a member of Lions Club International. Al was an avid Dallas Cowboys and Texas Rangers Fan. He was interested in studying family genealogy.

Survivors include his wife, Elva; a daughter, Deidra Bunnell and husband Alan of Phoenix, Arizona; two sons, Eliberto "Eli" Lopez, Jr. of San Angelo, and Ethan Lopez and wife Sheila of The Colony; four granddaughters, Andrea, Elin, Kailee and Elis; and several siblings.
Write Your Tribute