Dates

May 21, 1943 May 30, 2023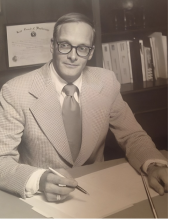 Thomas Eldon Easterling, 80, of San Angelo, passed away at home with the assistance of Hospice on Tuesday, May 30, 2023, after a long battle of complicated illnesses.

Tom was born on May 21, 1943 to John Wilber Easterling and Elsie Wilson Easterling in Mineral Wells. After Tom graduated from Odessa High School, he went on to study Mortuary Science at the Dallas Mortuary Institute.

In 1964, Tom married Jo Ann McReynolds and they had 58 years of marriage together. Tom and Jo Ann went on to have two children.

He was drafted and joined the Navy in 1966. After an honorable discharge, he worked for a short time for several family-owned funeral homes in the Permian Basin and in San Angelo before opening his own funeral home, Easterling Funeral Home, in Odessa.

One of the things that made him happiest was a visit to the coast to enjoy the peacefulness of the ocean.

Tom was predeceased by his father, John W. Easterling and his mother, Elsie O. Wilson Easterling, his oldest brother, Wayne Easterling and his youngest brother, Ron F. "Floyd" Easterling.

Survivors include his wife, Jo Ann McReynolds Easterling of the home; a daughter, Kimm Ferrell and husband Scott of Abilene; a son, Brian Easterling of San Angelo; five grandchildren and step grandchildren, Tanner Easterling, Alex Easterling, Jenay Hernandez, Rader Ferrell and Juddson Ferrell; and many nieces and nephews.

A private family memorial will be held at a later date. Arrangements are under the direction of Robert Massie Funeral Home.

In lieu of flowers, the family requests donations be made to Gentiva Hospice of San Angelo, 116 W. Concho Ave., San Angelo, Texas 76903, in his honor.
Write Your Tribute