Dates

Sep 24, 1940 Jun 01, 2023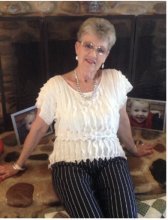 Melva Jean Weeks, 82, was born on September 24, 1940, in Lamesa, TX. She passed away peacefully at home surrounded by her loving family June 1, 2023, and now in her final resting place in heaven.
Melva graduated High School from Water Valley ISD in 1958 where she was a Majorette and involved in sports. She married her high school sweetheart, Jodie Weeks of Carlsbad in 1958. She worked at San Angelo State School as a Vocational Trainer for 25 years before she retired in 1996.
Melva was an active member of Southgate Church of Christ. Her priorities were serving God in every way possible.
Melva is preceded in death by her parents, Woodrow and Juanita Rogers. She is survived by her husband of 65 years, Jodie Weeks; daughters, Debbie McCabe and husband Melvin of Robert Lee, TX, Connie Goree and husband Miles of San Angelo, TX; Grandchildren, Andrew McCabe (Brandi), Danyale Keim (Ryan), Trenton McCabe (Clara), Colby Biggerstaff (Jaime); 12 Great Grandchildren; Brother, Darrell Rogers and Wife Connie; Sister Dian Noelke; and many nieces and nephews.
Visitation will be held at Harper Funeral Home on Friday, June 2, 2023, from 5:00 – 7:00 PM. A funeral service will be held at 2:00 PM on Saturday, June 3, 2023, at Southgate Church of Christ with a burial to follow at Lawnhaven Memorial Gardens.
The family would like to extend a special thank you to Hospice of San Angelo for all their love and care. Also, many thanks to Dr. Carl Anderton and Dr. Cheraku for taking great care of Melva.
Memorials can be directed to The San Angelo Christian Academy in loving memory of Melva Weeks.
Visitation
Friday, June 2, 2023
5:00PM - 7:00PM
Harper Funeral Home 
2606 Southland Boulevard 
San Angelo, TX 76904
Funeral Service
Saturday, June 3, 2023
2:00PM - 3:00PM
Southgate Church Of Christ 
528 Country Club Rd 
San Angelo, TX 76904
Write Your Tribute