Dates

Jul 09, 1983 Jun 03, 2023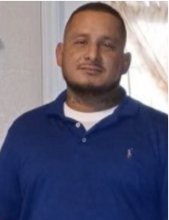 Anaclato "Ace" Cortez III, 39, of San Angelo passed away on Saturday, June 3, 2023, surrounded by his family.
Ace was born July 9, 1983, to Anaclato, Jr. and Belinda Blanco Cortez. He is the oldest of 4 siblings. Ace loved to dance, play jokes on his cousins and be the life of the party. Ace was a huge Dallas Cowboys fan, but his real loves are his children. He had a real genuine love for everyone, and family was everything to him.
Ace is preceded in death by his grandfather, Cleto Cortez, Sr, maternal grandmother, Angelita Vasquez Blanco, Uncle Eliberto Cortez, Maternal great grandparents Felix and Juanita Blanco, and Enriquez and Antonia Vasquez; and Fraternal great grandmother Sulema Galindo.
He is survived by his children, Anaclato Cortez IV and wife Lexy, Jayden Cortez and Aryanna Cortez; one grandson, Liam Ace Cortez; his parents, Anaclato, Jr and wife Susan, and Belinda Cortez and husband Victor Vela, grandparents, Albert Blanco Sr and wife Sylvia, Elida Cortez; his siblings, Roger Perez, Sabrina Santiago and spouse Mike Ruiz, Stacey Santiago and spouse Chico Suarez, Adrianna Berrones and spouse Joe and Victor Vela, Jr; his uncles, Albert Jr, Jesse, Robert, Ernest and Paul Blanco; his aunts, Bertha Garcia and Janie Reyes, as well as numerous other aunts, uncles, cousins and nieces and nephews; and a very special pet he called "Sister Samantha."
The Rosary will be 6:00 P.M., Wednesday, June 7, 2023, at Harper Funeral Home. The Funeral Service will be 11:00 A.M., Thursday, June 8, 2023, at Harper Funeral Home Chapel. The burial will follow at Belvedere Memorial Park.
Pallbearers for the service will be Paul Blanco, John Paul Blanco, Ernest Blanco, Albert Samarripa, Jr., Tony Arroyo and John Barron.
Ace – son, father, brother, grandson, and nephew, you will be deeply missed. I loved you so much. I know that you are no longer hurting. Until I see you again, my precious son. Love, Mom.
Family and friends may share condolences and sign the online register book at www.harper-funeralhome.com.
Rosary
Wednesday, June 7, 2023
6:00PM
Harper Funeral Home 
2606 Southland Boulevard 
San Angelo, TX 76904
Funeral Service
Thursday, June 8, 2023
11:00PM
Harper Funeral Home 
2606 Southland Boulevard 
San Angelo, TX 76904
Write Your Tribute