Dates

Apr 03, 1941 Jun 04, 2023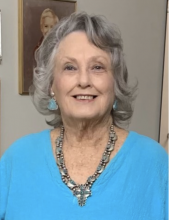 Clarice Cox, 82, was ushered into the presence of her Lord and Savior early Sunday morning, June 4, 2023.

She was born April 3, 1941, the daughter of Clarence Cox and Wilma Howard Cox Hamilton. While her grandparents, John and Mamie Cox raised her from infancy, she still spent lots of time with her mother, stepfather Wesley, and older sister Gaynell. She was also close to her uncle and aunt, Guinn and Margie Cox, who lived on the same property as her grandparents.

Clarice lived in San Angelo all of her life. She loved San Angelo-its history, its terrain, its people, and even its Mesquite trees. There wasn't a creek or a hill in the county in which she didn't know its name, a rise on a river she didn't want to watch after a rain, a local author's book she hadn't read, nor a story heard about the area she hadn't studied and researched. She was a born storyteller, a dreamer, and a traveler-barely having come down off one adventure while already longing for the next. She lived by her lists and calendars, loving when she had something to look forward to, but not satisfied unless everyone she loved was excited about it with her. She kept several books going at one time from an endless variety of genre. She was a lifelong learner with a penchant for hidden caves, secret gardens, and whatever might be discovered around that next bend-but she insisted her friends and family enjoy them with her.

The many friends Clarice accumulated throughout her life, many remaining from early childhood until she passed, are the testimony to who she truly was-a lover of people. She would gather them, then somehow forge families among step-kins, Bible studies, world travelers, music enthusiasts, "Glory Girls", wayward souls, the down and out, and the upper classy. She could not wait to get together for lunches with her Central High School Class of '59ers. She organized numerous reunions with family and friends and thought nothing was better than a good sing-a-long with some of her talented music friends. At the age of six, she formed a decades long relationship with a pen pal her age in East Germany whom she finally traveled to meet in her 60's; a story she loved to recount to others, as it allowed her to prove one of the many ways God had brought her full circle again and again in a myriad of life circumstances to show her His sovereignty.

Her stories and the Story of Clarice Cox are far too deep, too complex, and too intricate to share in one short tribute, and it's the reason she never finished writing that book everyone told her she needed to write. She would tell you that God's amazing grace and goodness to her would be its theme, and its conclusion would be a life well-lived, who loved and was loved by too many people to count.

She leaves behind a legacy of faith in Jesus to her children, Jim Bob Harris and his wife Laura; and Christy Dorr and her husband Matt of Mineral Wells; a sister, Gaynell Wilhelm and her family; her grandchildren, Zeke, Colt and Luke Dorr and their wives, Seth and Sawyer Harris, Sloan Voss and her husband, and Justice Eisenbach; great grand-children, Katch, Clark, Kelbi, Nicholas, Kopper, Charlie, June and Kallahan Dorr, Adaline Voss and Ava Sanchez; beloved cousins, Denise Fox, Kathy Mosely and her family, and all the Eisenbach clan whom she loved as her own.

She was preceded in death by her parents and grandparents, her precious son, Dennis Eisenbach, and two stepsons, Lane and Roy J. Eisenbach.

Clarice has managed to gather her family and friends one more time to laugh and cry together, this time in her memory. Public viewing will be from 10:00 AM until 8:00 PM with a family visitation from 5:00 PM until 7:00 PM Wednesday, June 8, 2023, at Robert Massie Funeral Home. Memorial service will be 10:30 AM Thursday, June 8, 2023, at Immanuel Baptist Church with Pastor Russ Frasier, pastor of Forgiven Ministries, "Biker Church", officiating. Followed by a luncheon in the fellowship hall. Arrangements are under the direction of Robert Massie Funeral Home

Her family would like to extend their gratitude to the staff at Sagecrest Care Center for their loving attention to Clarice in her short time there; Concho Hearts Hospice; and her beloved niece Angie Bigham for loving her so well during her last months.
MEMORIAL SERVICE
Thursday
June 8, 2023
10:30 AM  
Immanuel Baptist Church  
90 E 14th St
San Angelo, TX 76903
Write Your Tribute