Dates

Jan 22, 1934 Jun 04, 2023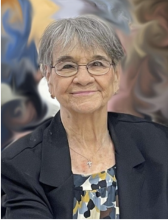 Doris Garlene Hawkins was born on January 22, 1934, and passed away from this Earth on June 4, 2023, at the age of 89 years.
She was born in Winters, TX to J. B. and Willie Ellen Neill and had two brothers, two sisters, a stepsister and a stepbrother. Garlene met the love of her life, Harvey "Hawk" Hawkins and they were married in Clovis, New Mexico on March 19, 1953. Hawk preceded her in death on March 6, 2022, and they were married one week short of 69 years.
She worked for American Amicable Insurance, attorneys Layne Turner and Paul Parker, ASU, and Tom Green County. She and Hawk then sold everything they owned and started their dream job working for KOA Parks, traveling and working in Maine, Louisiana, Nevada, Colorado, Texas, and California, and visiting numerous other parks and states over a 12-year period. They loved traveling, never met a stranger, and made many life-long friends. It was not unusual for them to know someone in many of the towns that they visited.
She was active in PTA when the kids were little, taught Sunday School, was a member of Jaycee-ettes, loved playing bridge, and was a member of PaulAnn Baptist Church. She loved the Lord, read her Bible every morning, and longed to be with her Hawk.
She and Hawk have three children and their spouses, Jolena (Charlie) Miller, Roxy (Alan) Doty and Ray (Lisette) Hawkins. Her pride and joy were her grandchildren Brad, Aschley, Chris (who recently preceded her in death), Brandy, Megan, Whitney, Briana, and Shayna. To add to that joy, she had 20 great-grandchildren ranging from 1 ½ to 21 years and her special dog, "Diego". She is also survived by her sister, Doris Motl, and sister-in-law, Marilyn Hawkins, along with many nieces and nephews. She deeply loved her family.
A memorial service will be held at 2 PM, Saturday, June 10, 2023, at Harper Funeral Home Chapel.
Memorials can be given to a favorite charity.
Memorial Service
Saturday, June 10, 2023
2:00PM - 3:30PM
Harper Funeral Home 
2606 Southland Boulevard 
San Angelo, TX 76904
Write Your Tribute