SAN ANGELO, TX — This week, Republic Services truck driver Valentine Gomez celebrated 45 years serving San Angelo. Republic Services contracts with the City of San Angelo for residential and commercial trash collection and operates the City's landfill on Old Ballinger Highway. 
Gomez, who goes by "Tino," was hired in 1977 as a "swamper." Swampers were workers who were positioned on the back of the garbage truck who hopped off at each house to pick up the resident's trash cans and dump the contents into the truck. 
"Back then we used to run through the alleys," Gomez said. "It was really hard work, but you get used to it."
"I was thinner then," Gomez said with a chuckle. Every day was a workout for the then-18-year-old Gomez, who said he rode on the back of the truck no matter the weather, simmering hot or bone-chilling cold, rain or shine. He worked for Angelo Sanitation back then, one of the many companies acquired by Republic over the past 45 years.
Today, Gomez operates a modern truck (pictured above and below) that only requires a single driver/operator. His primary route is the heart of San Angelo, the central downtown business district. His charge is to get the dumpsters of various sizes located at businesses. 
"You have to watch for the power lines now," Gomez said. The truck's arm is sometimes difficult to navigate where overhead lines are. "You have to know when and where to deploy the arm," Gomez said. Experience and familiarity with the routes guide him.
That experience has earned Gomez top recognition for a driver at Republic. "He has a superb safety record," explained Republic Services Operations Manager Brittany Reichenau. "He is recognized for what Republic calls 'Dedicated to Safety' and 'Dedicated to Excellence,' which include perfect safety and attendance records." 
Gomez will be married to his wife Yolonda for 45 years in March. He has two sons and a daughter. Sadly, one of his sons passed away a few years back. 
Gomez said he enjoys his seniority as a driver and is completely content where he is. If you see Gomez driving his truck around the downtown district, be sure to wave or congratulate him for his 45 years serving San Angelo.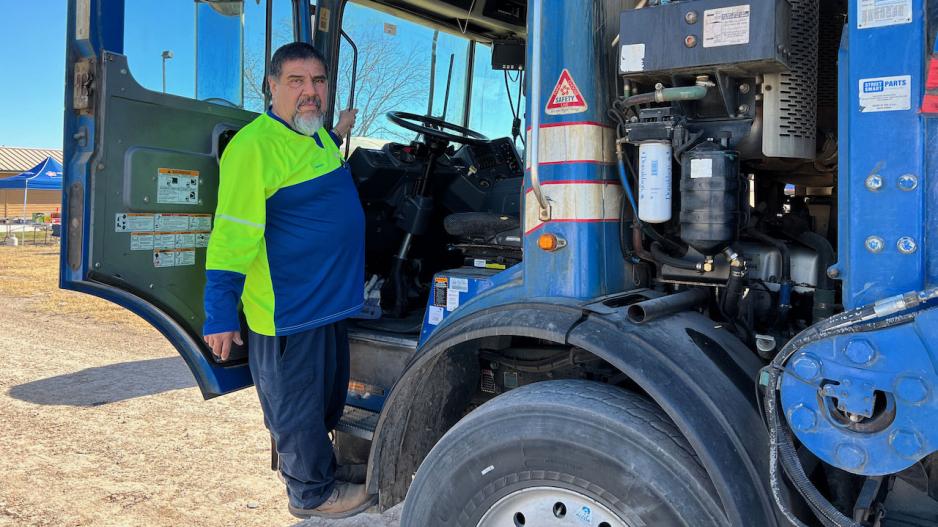 Most Recent Videos