SAN ANGELO, TX — En Plein Air Texas is an arts competition and its reach, at least inside the Lone Star State, is exclusive to San Angelo. With "Texas" in the name, leaders have staked statewide a claim in a fast-growing arts sensation growing in popularity across the nation.
Co-founder and co-chair Barbara Rallo said the idea to launch En Plein Air Texas in San Angelo came where she and her husband Bob were vacationing in Maryland nearly a decade ago.
"I don't know, maybe we were looking for a place to retire," Rallo said.
While on vacation and at a shop in Easton, Maryland, Rallo saw a brochure for the annual Plein Air Easton, an arts festival that invited painters from all over the nation to produce art depicting the local scene in the picturesque city near the waters of Chesapeake Bay.
"The Easton event blew me away," Rallo said. There, she saw a small city arts scene come alive with artists from all over painting subjects that defined the area. She networked with the event's founders and met all of the artists.
"I thought, oh good grief! We can become the next Easton!" Rallo said. Rather than retire elsewhere, the Rallos came home determined to stay in San Angelo.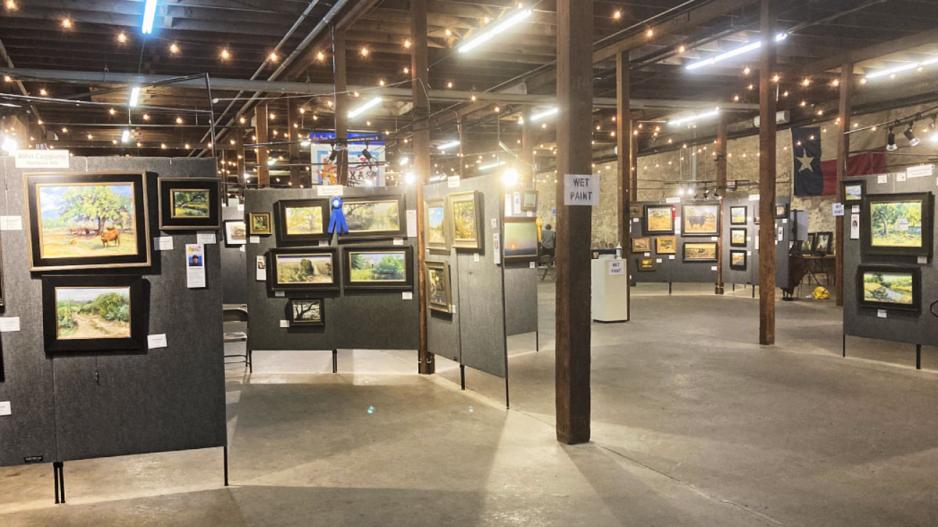 San Angelo offers its own unique flair to the En Plein Air movement, Rallo explained. "We have private ranches. Some of these ranches are 2-3 hours away. There's nothing like this," she said. Most of the ranches incorporated into this year's event are within an hour distance from San Angelo or less, she said. En Plein Air Texas artists can choose between at least six nearby ranches.
Local ranches are not the only subjects for the artists. En Plein Air Texas lines up locations in historic downtown San Angelo, the International Water Lily Gardens, and nearby towns like Christoval. Rallo noted that Christoval used to have a similar painting and arts community — an arts camp — during the first half of the 20th Century giving En Plein Air Texas a historical tie to the community's roots.
"Whether it's a ranch, the Concho River, downtown, or even a rusty old car, we have so many subjects for painters to gain inspiration," Rallo said.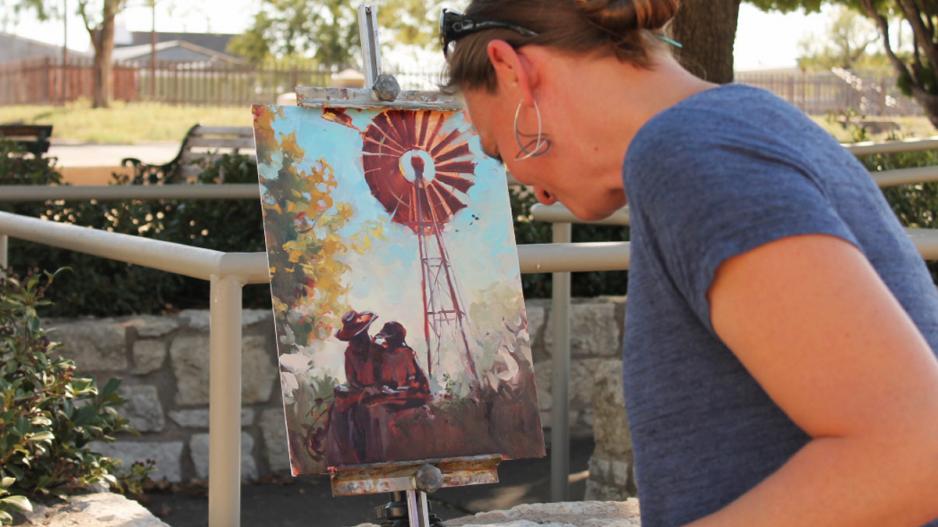 En Plein Air Texas, founded in 2014, is in its eighth year. Back in the first year, Rallo and her co-chair Treva Boyd seeded the event by fundraising just $13,000. Today, San Angelo Museum of Fine Arts Director Howard Taylor said this year's event will raise $250,000, with 60 percent going to the artists and the remainder to the museum to underwrite its acclaimed children's programs. It has become a major annual fundraising event for SAMFA. While the sale of the paintings created during this year's En Plein Air Texas constitute the best part of the attraction for top artists to travel here for the competition, Rallo and Boyd have raised more than $30,000 in cash prizes and another $40,000 in in-kind contributions — such as catered food and venues for sponsored events.
This year, 33 artists are in the competition, most of them world renown, and they travel here from all over the country to compete.
SAMFA Director Howard Taylor loves the event. "It's more than art. They are painting us!" he exclaimed. Taylor praised the community and co-chairs Rallo and Boyd, noting that other En Plein Air events are usually sandwiched inside major metropolitan areas — and wealthy areas. Even so, San Angelo's event is gaining on them with a much smaller local population base. While he estimated the total sales for this year's San Angelo event will be in the $250,000 range, this year's 17th annual Easton, Maryland event reported $414,000 in sales. "We're only in our eighth year and look how far we've come," Taylor said. San Angelo is in the ballpark.
En Plein Air for Everyone
The finale of the 2021 En Plein Air happens from October 27 until October 30. Casual observers may see the artists within the city limits of San Angelo starting Wednesday, October 27. Gallery Verde, 417 S. Oakes St, will be the headquarters where anyone can stop by and ask where each of the competing artists are setup and painting. Already, artists have been out at ranches. Over the weekend, several artists were spotted at Scrub Oak Ranch north of San Angelo, for example.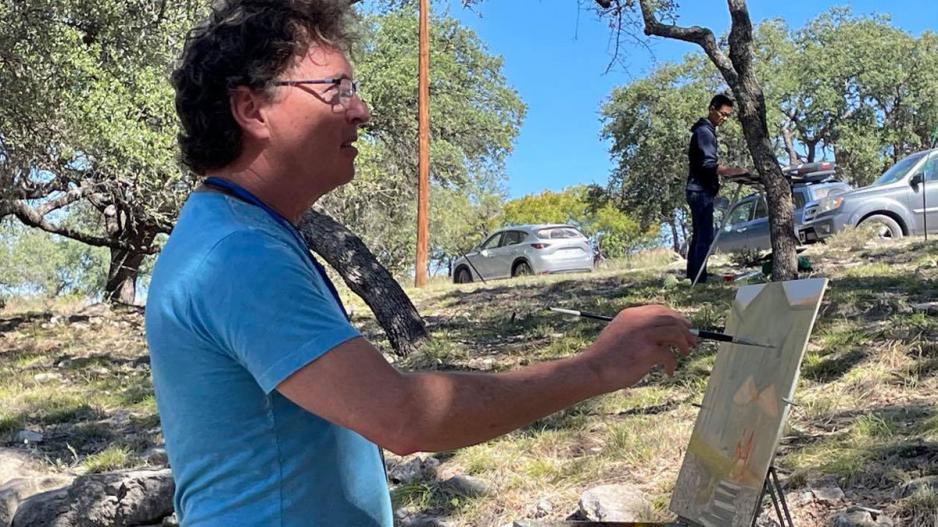 Here are ways you can enjoy En Plein Air Texas this week:
Note: There is also an app in the Apple App Store, "En Plein Air," that allows you to track where the artists are. Also, a full event guide is available in *pdf.
Wednesday, Oct 27 – San Angelo Paint Day
The artists will be painting all over San Angelo.
Gallery Verde will be open to help you locate them with a new artist-finder 'app.'
The Gallery will be full of paintings from the early ranch visits – a first viewing and the paintings will be for sale.
Thursday, Oct 28 – Field Ranch Experience with the Artists 
From 10 a.m. onward, you can spend the day on the Field Ranch with the artists and owners Jennifer & Tim Crutchfield who are happy to welcome everyone! This is a limited ticketed event, and here's a link on the EPAT website with details (there is a $100 per person admission).
At the end of the day, at around 3:30 p.m., ranch owners Jennifer and Tim Crutchfield will host an informal fajita lunch with chocolate cake in the main barn at the Field Ranch.
Thursday evening, Michael Grauer will make a presentation at the San Angelo Museum of Fine Arts, 1 Love St. Grauer is a leading western art historian from the National Cowboy and Heritage Museum in Oklahoma City. His presentation is on "100 years of Plein Air Painting in West Texas" where he will inform his audience about the history of en plein air artists in and around the Concho Valley who were here long before EPAT existed.
Friday, Oct 29 – Water Lily Garden Paint-out & "Art Collectors Stampede"
From 10 a.m. until noon (or thereabouts), you'll find artists painting at the famed International Waterlily Gardens, 2 S. Park St.
Later Friday, from 6 p.m. to 8 p.m. the "Stampede" opens at the Fort Concho Stables. This will be the public's first opportunity to view everything painted during the competition. Tickets are $100 and include a $100 credit towards a painting purchase.
Tim Newton will announce the winners of over $35,000 in cash and awards for the competition artists.
All paintings will be for sale. This venue becomes the focus for EPAT's major fundraising event — the sale of the paintings.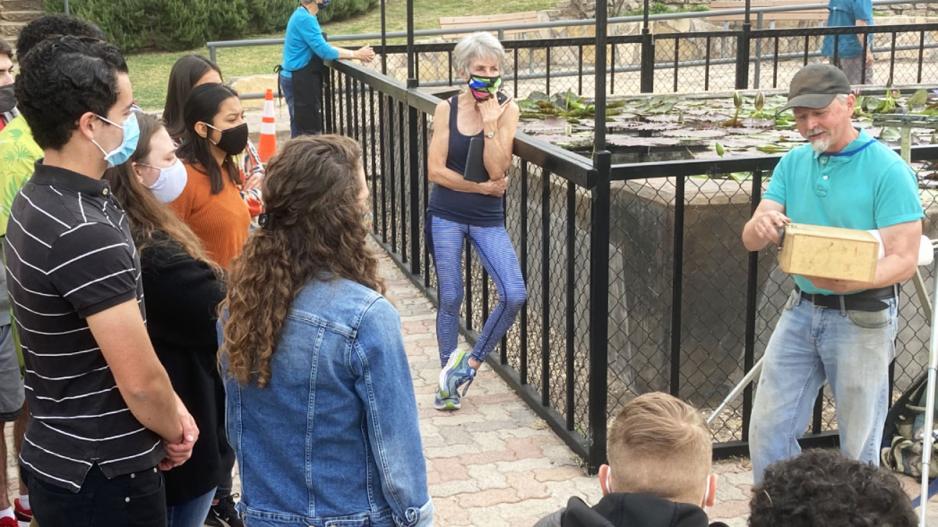 Saturday, Oct 30 – Roping Paint-Out, Mini-Pearls of the Conchos, Judge's Talk, Art Sale & Demos — From 9 a.m. until 5 p.m. the following EPAT events happen:
The exhibit is open free to the public at the Fort Concho Stables, 630 S. Oakes St., all day. However, the artists will bring their final pieces to the Stables by 12:30 p.m.
Free entry to the Rodeo Fairgrounds, 200 W. 43rd St. until 11 a.m., and $10 thereafter, where artists will be painting all morning until 12:30 p.m. at the San Angelo Roping Fiesta. Co-chair Boyd's husband, Mike, is the chairman of the San Angelo Stock Show and Rodeo Association. That opened the doors to incorporate San Angelo's signature arts competition and a San Angelo institution, the rodeo, into this event.
Also on Oct. 30, Mini-Pearls of the Conchos will be unveiled during the Fort Concho Stables - Mini-pearls are smaller, 6x8-inch paintings produced by many of the artists. Rallo said the Mini-Pearls are very affordable and open up the event to a much larger audience and customer base. The En Plein Air Judge's Talk will be around 2 p.m. at the Fort Concho Stables. Artists' demonstrations happen during the afternoon at the Fort Concho Stables.
In addition to the public events scheduled this week, En Plein Air Texas artists are working with local schools to expose students to the visual fine arts.
Most Recent Videos