SAN ANGELO, TX – 73 Covid-19 infections were confirmed in Tom Green County on Friday. Last Friday 140 cases were reported.
According to the City of San Angelo Public Information Office, on Jan. 22, the San Angelo's Health Department reported another 73 new positive COVID-19 infections.
That brings Tom Green County's total count since March to 15,178. There are 119,200 residents in Tom Green County.
There are currently 86 COVID-19 patients in the hospital. Yesterday Shannon reported 78 patients in the hospital.
There have been 256 Coronavirus fatalities in Tom Green County. There are 841 available hospital beds in Trauma Service Area K.
Yesterday there were 1,448 infections of COVID-19 in Tom Green County. The City's Public Information Office is expected to released the exact active count later today.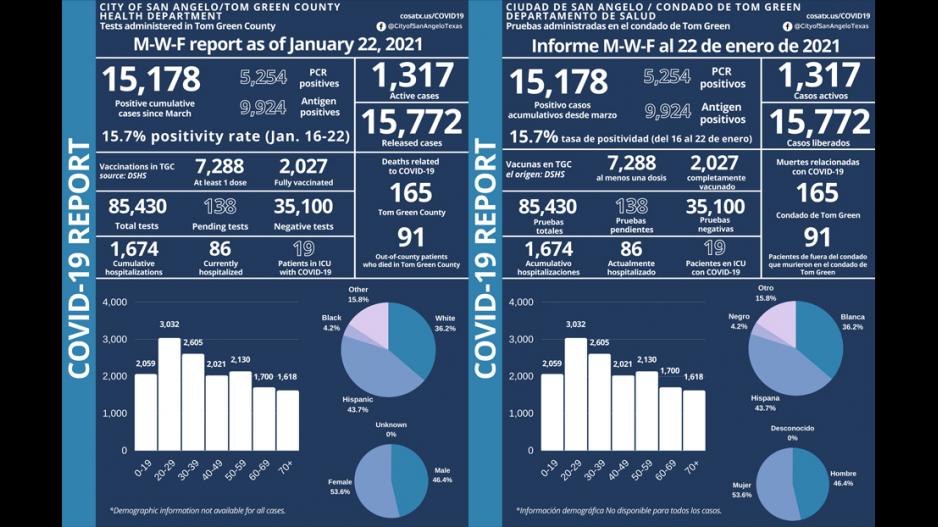 22 de enero de 2021
Total de casos positivos: 15,178
Actualmente hospitalizado: 86
Hay 73 nuevos casos positivos de COVID-19 para informar hoy: 28 casos PCR y 45 casos de antígeno.
Los números de casos activos seguirán con el informe MWF más tarde hoy.
| | | | | |
| --- | --- | --- | --- | --- |
| Gender | Age | Race/ethnicity | County of Residence | Type of Test |
| Female | 78 | Hispanic | Val Verde | PCR |
| Female | 78 | White | Schleicher | PCR |
| Female | 70 | Hispanic | Runnels | PCR |
| Male | 9 months | White | Nolan | PCR |
| Female | 45 | Unknown | Runnels | PCR |
| Male | 68 | White | Reagan | PCR |
| Male | 26 | Unknown | TGC | PCR |
| Female | 18 | Unknown | TGC | PCR |
| Male | 80 | Hispanic | TGC | PCR |
| Female | 46 | Hispanic | TGC | PCR |
| Female | 54 | White | TGC | PCR |
| Male | 62 | Asian | TGC | PCR |
| Male | 51 | White | TGC | PCR |
| Female | 1 | White | TGC | PCR |
| Female | 34 | Black | TGC | PCR |
| Female | 51 | Hispanic | TGC | PCR |
| Female | 82 | White | TGC | PCR |
| Female | 41 | Black | TGC | PCR |
| Female | 60 | White | TGC | PCR |
| Male | 57 | White | TGC | PCR |
| Male | 21 | Unknown | TGC | PCR |
| Male | 19 | Unknown | TGC | PCR |
| Male | 21 | Unknown | TGC | PCR |
| Male | 19 | Unknown | TGC | PCR |
| Male | 32 | Unknown | TGC | PCR |
| Male | 19 | Unknown | TGC | PCR |
| Male | 26 | Unknown | TGC | PCR |
| Female | 27 | White | TGC | PCR |
| Female | 62 | White | TGC | Antigen |
| Female | 42 | Hispanic | TGC | Antigen |
| Male | 51 | White | Bexar | Antigen |
| Male | 49 | White | TGC | Antigen |
| Female | 48 | Hispanic | TGC | Antigen |
| Female | 89 | White | TGC | Antigen |
| Male | 28 | Hispanic | TGC | Antigen |
| Female | 49 | White | TGC | Antigen |
| Male | 26 | White | TGC | Antigen |
| Male | 22 | Hispanic | Runnels | Antigen |
| Male | 28 | Unknown | TGC | Antigen |
| Male | 28 | White | Runnels | Antigen |
| Male | 43 | White | TGC | Antigen |
| Male | 53 | Hispanic | TGC | Antigen |
| Male | 37 | Hispanic | Crockett | Antigen |
| Male | 36 | Hispanic | TGC | Antigen |
| Male | 16 | Hispanic | TGC | Antigen |
| Male | 41 | White | TGC | Antigen |
| Male | 47 | White | TGC | Antigen |
| Female | 57 | White | TGC | Antigen |
| Male | 27 | White | TGC | Antigen |
| Male | 61 | Hispanic | TGC | Antigen |
| Male | 21 | Unknown | TGC | Antigen |
| Male | 64 | White | TGC | Antigen |
| Female | 41 | Hispanic | TGC | Antigen |
| Male | 44 | White | Concho | Antigen |
| Female | 46 | Hispanic | Runnels | Antigen |
| Male | 26 | Other | TGC | Antigen |
| Male | 6 | Black | TGC | Antigen |
| Male | 57 | Hispanic | Tarrant | Antigen |
| Male | 58 | Hispanic | Runnels | Antigen |
| Male | 65 | White | TGC | Antigen |
| Male | 18 | White | Irion | Antigen |
| Male | 60 | White | TGC | Antigen |
| Female | 53 | White | TGC | Antigen |
| Male | 15 | White | TGC | Antigen |
| Male | 24 | Hispanic | TGC | Antigen |
| Female | 59 | Hispanic | TGC | Antigen |
| Male | 29 | Hispanic | TGC | Antigen |
| Female | 30 | White | TGC | Antigen |
| Male | 17 | White | TGC | Antigen |
| Female | 30 | Hispanic | TGC | Antigen |
| Female | 26 | Hispanic | TGC | Antigen |
| Male | 51 | Hispanic | TGC | Antigen |
| Female | 22 | Unknown | TGC | Antigen |
Most Recent Videos