SAN ANGELO, TX — The Central Bobcats are about to have a head coaching vacancy. The Brady Independent School District announced on Tuesday, June 6, that Bobcats Head Basketball Coach C.J. Villegas will be the new Athletic Director for Brady ISD. The beloved head coach leaves the Bobcats after just three seasons.
In a statement posted on Brady ISD's Facebook, Superintendent Dr. Hector Martinez said, "We are pleased to announce C.J. Villegas as our new Brady ISD Athletic Director. C.J. has been a teacher and coach for 16 years. He has a Master of Education in Sports Administration from Concordia University and a Bachelor of Science in Exercise and Sport Studies from McMurry University."
The Brady native returns to his hometown along with his wife, Kourtney, and two boys, Malakai and Azakai. Villegas graduated from Brady High School in 2004 before attending McMurry University and Concordia University. Central High School hired Villegas back in May of 2020. His coaching prowess helped lead the Bobcats back to the playoffs this past season, where they fell to El Paso Eastwood in the Bi-district round. 
According to Max Preps, Villegas finished his career at Central with a 60-34 overall record. Villegas made an immediate impact on the team in his first season. He took a Bobcats' squad that finished 8-19 the previous year to a 15-12 record and a trip to the playoffs in his first season at the helm. The 'Cats only improved from there, finishing 21-11 and then 24-11 in the next two seasons. The Bobcats never missed the playoffs with Coach Villegas in charge.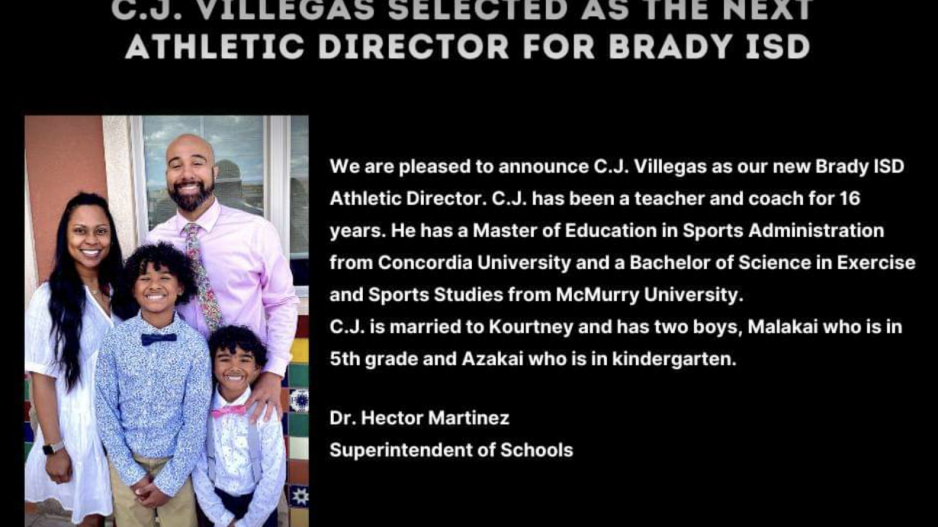 Most Recent Videos