SAN ANGELO, TX — Angelo State University's official mascot is a real Rambouillet ram named Dominic. This year's handler for Dominic is an Animal Science major from Midland, Brenna Bell. She said there are no initiation rights to be the official mascot handler, rather she happened to stumble into the job.
"I am in the Block and Bridle Club and one weekend a gentleman in the club asked me if I wanted to help out with Dominic," Bell said.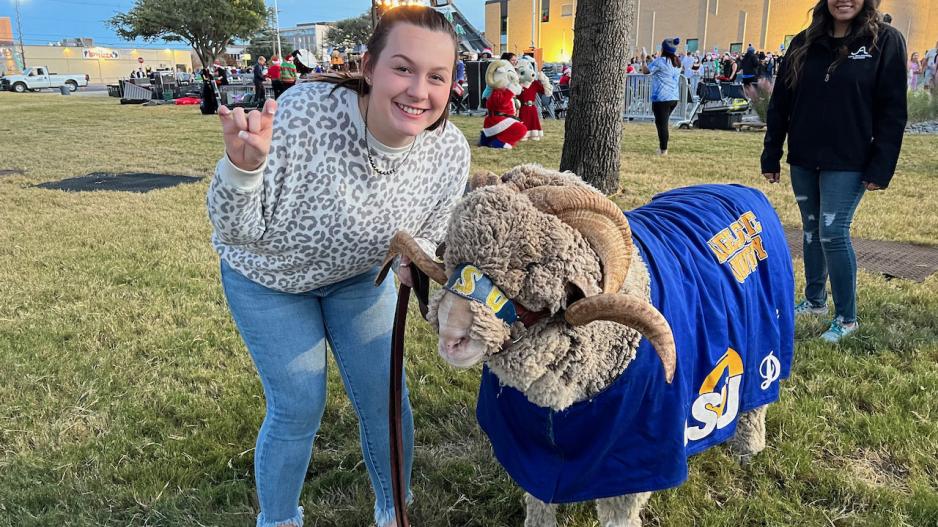 She said she assisted the previous mascot handler for a couple of games and was soon the sole person in charge of taking Dominic to Angelo State University functions, particularly the football games.
"He's out at a special pen on the north side of San Angelo. I go out there and catch him, then load him into the special ASU Ram trailer, and we're on our way," Bell said. She said Dominic is very used to the routine and catching and loading him into the trailer is easy.
The Dominic ram you see today is the ninth generation. The first Rambouillet ram, "Shorty," was donated to the college in 1940 by area rancher D.T. Jones, who had two daughters attending the school. In 1963, there was a school-wide vote on the permanent name for the official mascot ram and "Dominic" was chosen. All Dominics are related as they come from the same bloodline, Bell explained.
The current Dominic is 6 years old and has been on the job for 4 years. Bell said in more recent times, the average time on the job is 4 years and this Dominic is nearing the end of his tour. After valiantly serving the university, Dominic will enjoy a relaxing retirement at the ASU pastures north of the city.
Bell said that the current Dominic is suffering a bit with arthritis. One game this year, she said she witnessed him having trouble moving and instead of the game, she took him to the veterinarian. That is when the arthritis was diagnosed and treated. Bell said this is the last year this Dominic will serve. But Dominic has two sons living with him. By this time next year, one of the sons will be chosen to take over for his dad.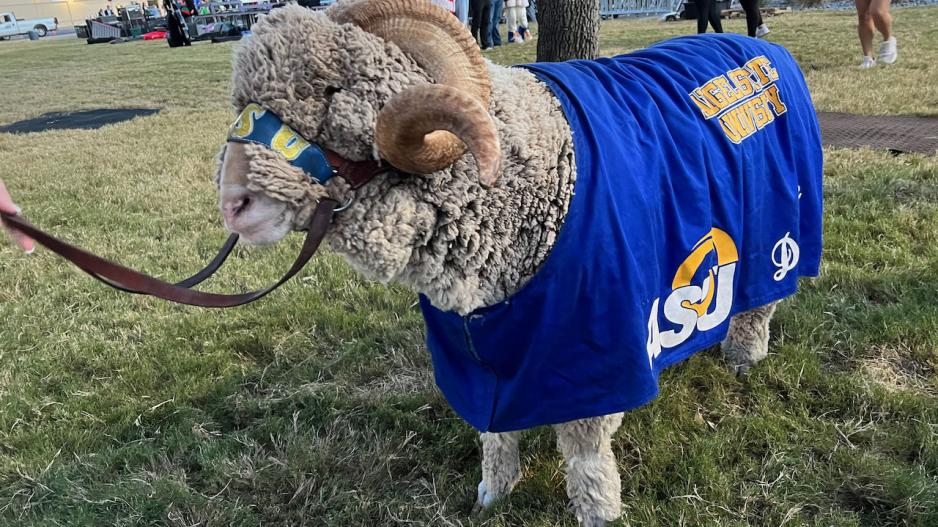 "We will evaluate the temperament of each son and pick the one with the best disposition," Bell said.
For Bell, who is a senior, she will also be moving on. She wants to start a career in ranch or wildlife management. "Or really something related to ag," she said. Bell is excited for her future as the biggest hurdles of her degree are complete. She said animal anatomy and physiology class was the toughest part of her syllabus and she passed those subjects last semester.
Being Dominic's handler has been a very memorable experience, Bell said. "I love being there on the sidelines of the football games, taking it in up close," she said.
Most Recent Videos