SAN ANGELO, TX — Several San Angelo basketball players made the All-Tournament team last weekend in the Doug McCutchen Memorial Tournament from Dec. 1-3.
San Angelo Central Bobcats
Kollin Allbright, Junior, Forward
Jaedyn Gipson, Senior, Guard
The Bobcats went 3-1 overall during the tournament, placing 5th overall. The only game the 'Cats dropped was to a talented Temple Wildcats squad that placed 4th overall.
Lake View Chiefs
Tony Cabrerra Jr., Senior, Shooting Guard
The Chiefs went 1-3 overall in the tournament. In the second half, several mental mistakes and turnovers sunk Lake View in their losses. However, the Chiefs did beat the Monahans Loboes soundly in their third game, 79-67.
TLCA Eagles
Drew Sherril, Junior, Point Guard
Jaidden Villanueva, Junior, Point Guard
One of the smaller teams at the tournament, the 3A Eagles, handled themselves well against some of the 5A and 6A schools. TLCA went 2-2 overall, beating Monahans and El Paso Ysleta, while only losing to 5th place San Angelo Central and 3rd place Brandeis. The Eagles should be powerhouses in 3A ball this year.
Euless Trinity won first place in the Doug McCutchen Memorial Tournament after defeating San Antonio Taft 57-55 in the championship game.
2022 Doug McCutchen Memorial Tournament All-Tournament Team
TOURNAMENT MVP
#11 Elijah Green-Euless Trinity
ALL-TOURNAMENT TEAM
#12 Mustafa Mohamed-Euless Trinity
#24 Jaymarion Stewart-Euless Trinity
#20 Houston Martin-Temple
#23 Jamarion Carlton-Temple
#3 RJ Brooks-Monahans
#4 Jasen Sanchez-Monahans
#20 Kollin Allbright-San Angelo Central
#21 Jaedyn Gipson-San Angelo Central
#32 Demar Burton-Brandeis
#11 JD Riojas-Taft
#35 Kevin Piedra-Taft
#12 Donovan Black-El Paso Del Valle
#2 Tony Cabrera-San Angelo Lake View
#4 Jude Jones-El Paso High
#11 Charlie Ruhmann-El Paso High
#14 Drew Sherrill-TLCA
#24 Jaidden Villanueva-TLCA
#5 Devin Falk-Ramirez-El Paso Eastwood
#50 Jase Molden-El Paso Eastwood
#1 Patrick Foley-Northwest Eaton
#13 Matthew Gonzalez-El Paso Ysleta
#21 Azaiah Thompson-El Paso Ysleta
#3 Amaree Garmon-Lubbock Cooper
#23 Dayne Collier-Lubbock Cooper
#1 Anthony Landrum-Fort Worth Benbrook
#33 Julian Moreno-El Paso Parkland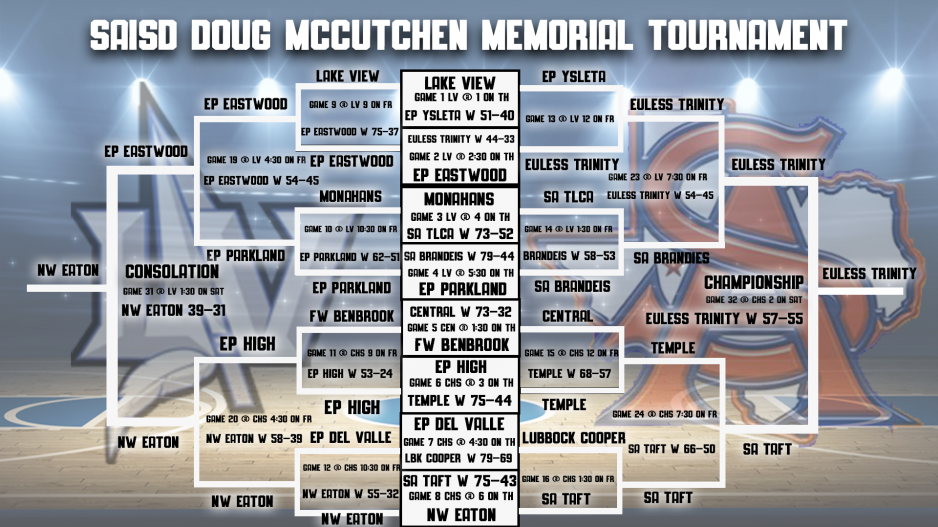 Most Recent Videos