SAN ANGELO, TX — The No. 22 Angelo State Rams football team looks to correct a two-game skid after falling 27-24 to Central Washington in Ellensburg last Saturday. On Monday, September 18, Head Coach Jeff Girsch held his weekly press conference to discuss the loss against Central Washington and what it will take to get back into the win column against Western New Mexico this weekend.
Watch the Press Conference here:
"This last one was a tough one for us," Coach Girsch said about the loss to Central Washington. "We didn't play up to the level we needed to play at to win a game. We had a chance to win it at the end after playing subpar football, especially on special teams."
The Rams had a blocked punt returned against them for a touchdown and a blocked field goal late in the 4th quarter as Angelo State attempted to send the game to overtime. Coupled with two interceptions, one from Gardner and one on a trick play by punter Cade Fuller, the Rams gave Central Washington too many freebies to win that ball game. 
Angelo State showed grit down 27-10 in the 4th quarter. The Rams managed to score two touchdowns to get within three points before the defense gave the offense one final shot to tie the game. ASU drove down the field into field goal range with just over 10 seconds to go, but the field goal attempt was blocked. The Rams fell 27-24.
On the positive side, Gardner went over 300 yards passing and another two touchdowns (27/38 307 yards, two touchdowns, and one inter as the quarterback continues to show why he has cemented himself as the starter at Angelo State. 
One of the reasons why Gardner had to toss around the ball so much was because of how Central Washington sold out to stop the run. Historically, Girsch likes to pound the ball up the middle to control the clock and let his dominant defense run wild. The Wildcats did an excellent job at taking the ground game away, but Angelo State's response through the air is another reason to cheer.
"When you can only rush the ball so many times, and they take that away, you throw for 320 [yards], Girsch said. "When they play eight in the box and three deep, we can throw it a bit more."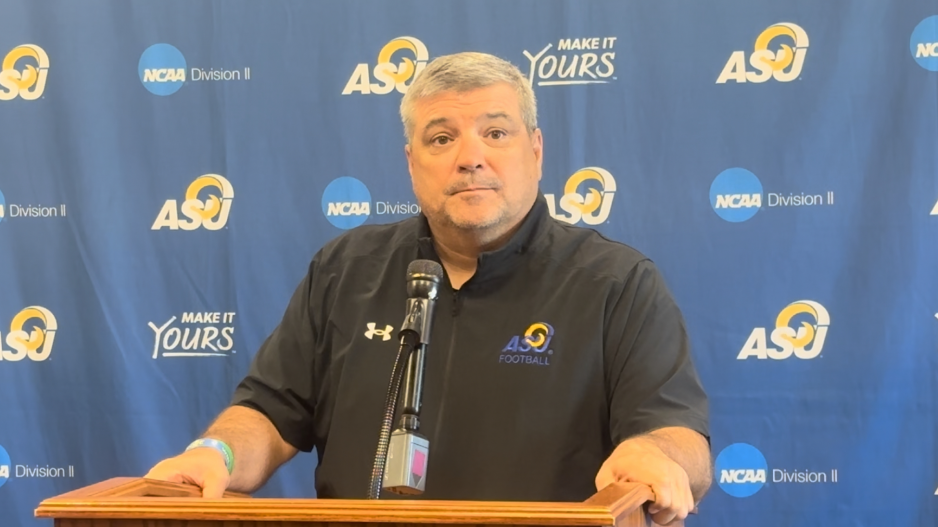 Angelo State is on a losing streak for the first time in recent memory and needs to bounce back this Saturday against Western New Mexico. Girsch said that Western New Mexico has a talented quarterback and should pose a significant challenge to the Rams' defense on Saturday. Girsch said it will take a mix of solid play in the secondary and a constant pass rush to keep Western New Mexico's quarterback uncomfortable.
"It will be a mixture of both, for sure," Girsch said. "We do a good job at pressuring quarterbacks and putting them in tough positions. We try to stress their blocking schemes and protection schemes. We are going to have our hands full. We do play a lot of man-to-man coverage. Winning the one-on-one, man-to-man out there, and also getting help from the d-line, linebackers, and our pass rush will be huge for us this week."
If Angelo State can win the turnover battle and play solid defense on Saturday, expect the Rams to climb back into the win column. The Rams host Western New Mexico on Saturday, September 23, at Legrand Stadium at 1st Community Credit Union Field. Kickoff is scheduled for 6 p.m.
Most Recent Videos